Miller & Miller Electric provides thorough electrical safety inspections, offering peace of mind and protection against potential fires.
Protecting your home or business is a high priority.
At Miller & Miller Electric, we don't just repair, install and renovate, we identify potential problems before they become serious threats.  A comprehensive safety inspection from Miller & Miller Electric is the ultimate form of preventative maintenance.  If you are having problems or are just not sure of the integrity of your electrical system you will WANT to schedule an inspection.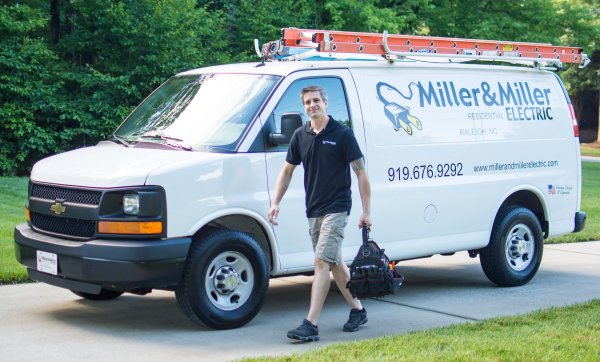 CALL US AT 919-676-9292, IT MAY BE THE MOST IMPORTANT CALL YOU EVER MAKE!
What Our Raleigh-area Safety Inspection Covers
When it comes to safety, our inspectors leave nothing to chance. We offer a premier multi-point safety inspection program that is extremely comprehensive and worthwhile. This program covers the following:
Open junction boxes
Faulty wiring
Loose and faulty receptacles/switches
Attic and bathroom exhaust fans
GFCI and AFCI Faulty devices
Service and breaker box equipment
Service grounding electrode conductors
Bonding of gas lines
HVAC disconnects
Lighting
Ceiling fans
Code compliance issues
& more
Before beginning any electrical inspection, we listen to your concerns and attempt to gain an appreciation for the task ahead.   As we move forward we are able to make recommendations on the best and most cost-effective ways to solve electrical problems.
Electrical Safety Inspections Prevent Hazards
Even if you don't notice signs of an electrical malfunction, having a safety inspection is always a great idea. Our specialists can identify trouble spots and help you avoid:
Shortages
Power Flickering
Fire Damage
And more
In addition to keeping your home safe, an electrical inspection from Miller & Miller Electric provides a detailed assessment of a corrective action plan to meet city and county compliance.
Client Testimonial
We used Miller & Miller today based on a friend's recommendation and will definitely continue to use them! From start to finish, the service we received was fantastic. Joe came to install our television and repair light switches – he was friendly, efficient, let us know when he was on his way, and a pleasure to work with. There was no mess, he checked to make sure we were happy with everything done, and I would have no hesitation in recommending them to others.
Sarah J.