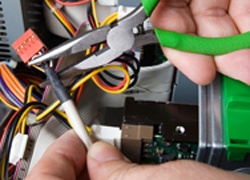 Whether you need a rewiring service or someone to repair your faulty appliances and gadgets, finding a reliable electrician is important. A good electrician will improve your home safety and save you from enormous electrical bills. Here are important considerations when choosing electrical service providers in Durham NC.
Required licenses and permits
Electrical service providers must have the license to operate in your state. Hiring an electrician who doesn't have the required licensing can invalidate any warranty you have on your electrical appliances and components. Always ask for proof of licensing and insurance in your state. The electrician should provide you with a copy of their license. If working with a Durham NC electrical company, ensure that the person that they send to do the actual work has been licensed.
Well versed with latest technology
A good electrician understands new technology and innovation. You don't have to hire someone who doesn't understand how current appliances operate because they are likely to make a mess out of the whole situation. Find out what kind of electrical work the professional has handled before and ask for references. Contact previous clients to find out if they were satisfied with the services rendered.
A fair electrical bid
The lowest bid is usually not the best and the highest one doesn't translate to quality. You need to understand the fair price so that you can argue based on facts. Get multiple bids from electricians in Durham NC so that you can know what you are likely to pay before settling for the electrician.
Go through online reviews
Most people use the internet to perform background checks before hiring service providers. When looking for a reliable electrician, the internet can be a reliable resource. Look for both positive and negative reviews and try to determine whether the person is worth your time. An experienced electrician may have a couple of negative reviews because of the long list of clients so don't be quick to write them off.
Know their area of expertise
The electrician you choose will depend on the type of project you want done. Having an electrical company that has a list of experts in different areas is important. There are companies that have electricians Durham NC who can handle construction projects, repair appliances and install new wiring in homes and commercial buildings. Working with such a diverse team puts you in a better position in case you encounter any electrical issues.
Check out our electrical safety inspection programs. Talk to us here at Miller and Miller Electric today!